Contents
Mission Statement
Embrace technology, including environmentally sustainable processes, across the supply chain from design to wash

Engage in the community through corporate social responsibility

Foster safe, open and supportive working environments that allow for professional development
Since its founding in 1986, SAE-A has built a global of community of employees and clients. From factory workers to engineers, from textile designers to project managers, our skilled and dedicated workforce is the reason for our success and is sets SAE-A apart from the competition.
Operating on a global scale, SAE-A is committed to adjusting to a dynamic and evolving marketplace. This means embracing new technology and innovations that couple safer, more efficient manufacturing processes with the company standard for the highest quality products. While we have grown from a local company thirty years ago to one with worldwide operations today, our business philosophy remains rooted the three core principles:
Embrace technology, including environmentally sustainable processes, across the supply chain from design to wash
Engage in the community through corporate social responsibility
Foster safe, open and supportive working environments that allow for professional development
With more than 60,000 team members working in 10 countries across four continents, upholding these principles requires demands an unwavering commitment to best in industry business practices while understanding the complexities of global trade. Our associates produce high quality products in supportive and safe workplaces. Not only do, we abide by local, national and international regulations, but at SAE-A, our commitment to the workplace extends beyond what is required. We go one step farther by having our own strict corporate safety and compliance requirements, including regular site visits from oversight teams. We also invest heavily in our employees by providing training programs and opportunities for advancement within the company and beyond our facilities. We invest in programs specifically designed to empower young people, promote sustainable economic growth and address the most urgent needs of the community.
At SAE-A, we believe that international trade opens doors for communities, and benefits our global economy. We understand the dangers of climate change, we are committed to do what we can to reduce its impact. And we fully cooperate with environmental oversight organizations at each of our facilities and actively investing in new green technologies.
We are proud that our operations and operating philosophy today remains true to our roots as a family-run, locally minded company. We look forward to strengthening our relationships, forging new ones, and maintaining our high standards in the years to come.
Who we are
SAE-A at a glance
From yarn-production through its fabric mills that draw on in new innovation and technology, to retail operations in Korea, SAE-A has become one of the few apparel manufacturers capable of achieving complete vertical-integration of its supply chain. For SAE-A, business means being a member of the community. The company engages in community activities and corporate social responsibility both locally and across all of its operations. It provides personal advancement and career growth opportunities for associates, holds itself to stringent environmental standards, and supports local medical and educational programs. Being a model corporate citizen is of the utmost importance to SAE-A.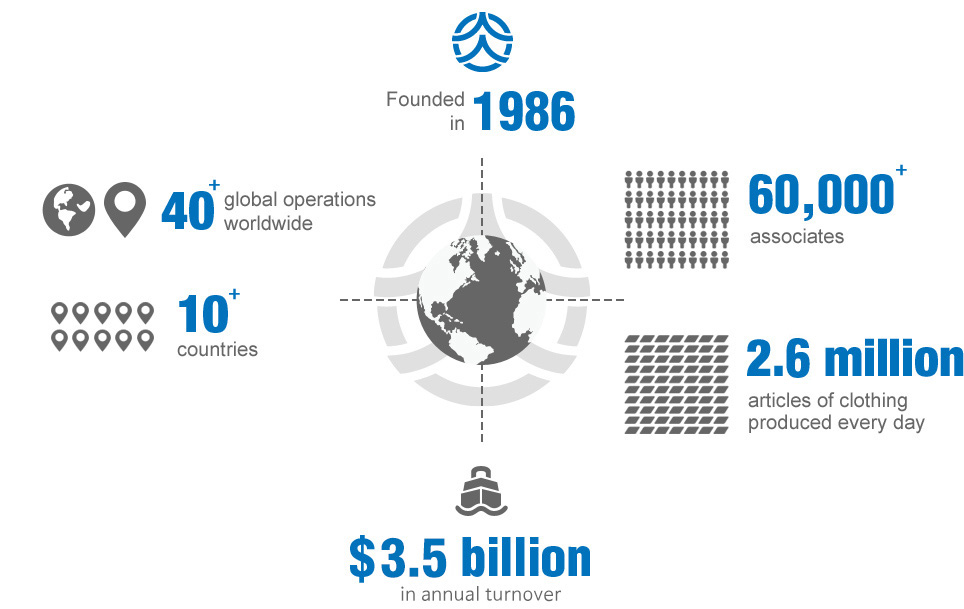 Founded in 1986
41 global operations worldwide
Employs more than 60,000 associates
More than 25 subsidiaries in 10 countries
Manufactures near 25,000 articles of clothing every day
$2.4 billion in annual exports
Global SAE-A Group

SAE-A Trading (Apparel Manufacture)
SAE-A EINS(Apparel Manufacture) Learn more
WINTEX(Fabric Mill) Learn more
IN THE F(Retail) Learn more
SAE-A Spinning, S.R.L.(Spinning Mill)
Chairman's Message
Welcome to SAE-A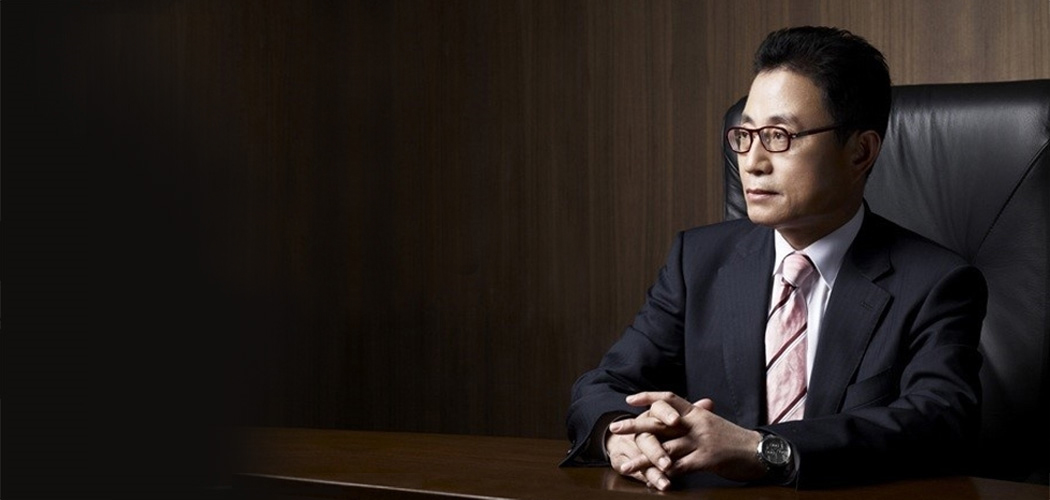 When SAE-A began in 1986, we were a local, family owned and operated company in Korea. Our goal was to manufacture quality apparel in a safe working environment. Over the past thirty years our goal has not changed, but our business has grown from a domestic one to a one that is global in scope. Central to our global operations is our desire to help spur economic growth by creating jobs and investing in the community. Today SAE-A's business operations extend around the world with manufacturing facilities from Vietnam to Guatemala, and offices from Korea to the United States. We strive to run our businesses in an environmentally sustainable way by minimizing and offsetting environmental impact, and work to invest in a wide range of corporate social responsibility programs specific to the needs of the community.
Over the years, as I have traveled to our facilities, I have seen our investments help the local economies grow. From new markets to transportation systems, we have seen communities make great progress, and are honored to be a part of them.
But economic investment is just one part of our efforts. We make protecting and promoting workers rights and well-being our mission. It is something of great personal importance to me and I have ensured that our commitment extends into every facet of our operations. We establish exemplary labor-management relations based on mutual trust with our associates.
I want to highlight one of our investments that I am most proud of SAE-A's investment in Haiti. I remember when Korea faced hard times and the international community supported its economic growth and dream of a prosperous future. To me, if investing in Haiti was economically viable, it was important to me to do so. At the time, we were already looking to expand. Investing in Haiti would be both an investment in country's future and a sign of our faith in the Haitian people, just as others had faith in the Korean people. In 2011, we signed an agreement with the Government of Haiti, the Inter-American Development Bank and the US government to build an industrial park in Northern Haiti. It officially opened its production facilities in October 2012.
In addition to our manufacturing investment, S&H Foundation, the philanthropic arm of SAE-A, is focused on its efforts to support education and healthcare in the region. S&H Foundation established its new S&H School in Haiti to provide local children, many of with parents who work for SAE-A, with opportunities to receive free education of the highest quality. We also sponsor a team of doctors and medical professionals to provide treatment for our neighbors.
SAE-A values being a trusted partner and exemplary corporate citizen in every country where we operate.
Thank you.
Chairman Woong-ki Kim
History
In less than 30 years, SAE-A grew from a small regional garment manufacturing company to a major player in the international garment industry. In our first nine years of business, we grew from US$7 million to US$21 million. SAE-A was ready to expand internationally. From 1995-1999 we owned and operated 6 manufacturing facilities focusing on the manufacturing segment of the supply chain.
In 1999, with more than $70 million in exports, SAE-A made its first investments outside of Asia. We began manufacturing operations in Guatemala and established a corporate presence in New York City to ensure proximity to clients, while providing the same level of managerial engagement that led to our early success in Asia. Our expansion in the Americas continued as we inaugurated an industrial complex in Nicaragua and a second factory in Guatemala. In 2012, we commenced operations in Northern Haiti.
While expanding in the Americas, we also grew our business in Asia growing operations in Vietnam, Cambodia, and Indonesia. Most recently, to increase woven business opportunities and work towards complete vertical integration, we introduced a new state-of-the-art woven garment manufacturing facility focusing on efficiency and environmental sustainability.
SAE-A looks forward to continued growth.
2020

Sae-A Trading awarded the 'Minister of Foreign Affairs Award' at the National Sustainability Management Awards

2020

Opening of Dominican Republic garment production facilities

2018

Plywood Manufacturing commences in Ghana

2017

The SAE-A Foundation inaugurates its 2nd educational institution in Haiti : 'S&H Secondary School' which provides free education to local area children

2016

The SAE-A factory in Ho Chi Minh 'Eins Vina' receives the "CSR Enterprise of the Year" award from the Vietnam Government

2015

SAE-A's first Western Hemisphere spinning mill 'SAE-A Spinning Butterfly' commences operations

2014

Operations begin at SAE-A latest apparel factory in Hanoi, Vietnam : S&H Vina

2012

SAE-A opens Win Textile in Indonesia, the region's largest knitting and dyeing mill

2011

SAE-A receives the 1 Billion Dollar Export Tower award from the Korean government
Operating Philosophy & Ethics
Associates
Put employees first but cultivate a safe, positive work environment that encourages collaboration and comraderie.
Invest in associates through professional development and career advancement opportunities.
Uphold and respect local, national and international laws and regulations governing the workplace.
Prohibit discrimination through the enforcement of a zero tolerance policy.
Company Leadership
Prioritize transparency in business operations.
Unlock innovative methods and technology to create the safest workplace while increasing productivity.
Enforce the company's code of conduct encompassing ethical practices.
Conduct regular review of company policies to ensure they provide the greatest protection for all employees against harassment, discrimination of unjust treatment
Uphold highest level of business ethics including adhering to all pertinent government and multilateral requirements including securities law.
Principles Regarding Suppliers
Remain open to working with all suppliers by providing fair and reasonable opportunities.
Fair and reasonable opportunities.
Adhere to the highest standards of good faith competition.
Principles Regarding Customers
Constantly work to provide customers with the best possible safety and reliability.
Ensure all transactions adhere to legal and ethical standards.
Maintain honest and open lines of communication with customers.
Principles Regarding Government and Society
Fulfill our corporate social responsibilities by adhering to transparent accounting practices and government?policies.
Foster a community that respects the highest standards of ethics and environmental sustainability.
Serve as an active member of the communities in which we work helping them to thrive.