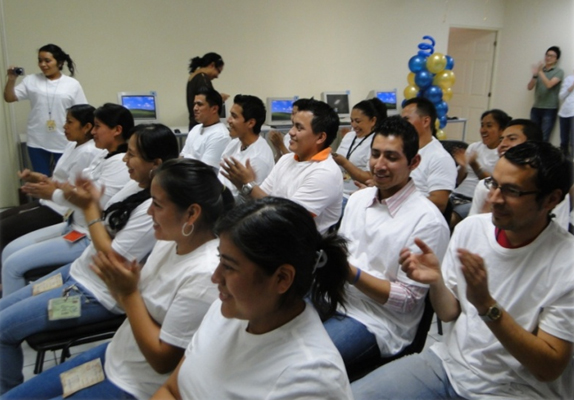 SAE-A offers diverse training courses providing our associates with the knowledge and resources necessary for advancing their careers. Classes focus both on skills of importance to an employee's job at SAE-A, including language classes, but we also, broader professional development courses. SAE-A's Guatemalan branch found many employees were interested in learning computer skills, but few had access to the technology or education. In response to the incredible interest, SAE-A invested in a new computer lab where we hold computer literacy classes for employees and their children.
Edy Fernando, Guatemala :
"Learning how to use computers has been on my wishlist for a very long time. I'd appreciate the company giving me this opportunity."
Delia Joachin, Guatemala :
"I want to learn how to use Excel among other computer programs. I'll work hard to learn it so that my kids would be proud of me."
SAE-A's Haiti branch holds leadership seminars on a regular basis to equip local workers with the skills necessary to solve problems and improve communication. Understanding that many of the employees in Haiti have never been part of the formal economy, we are committed to helping them improve their skills, many of which can be refined through further on-the-job training positions available to employees. Together, these efforts improve working conditions and prepare local employees to take on leadership roles within SAE-A's international organization.
Dorainwil Innocent (Cutting Supervisor), Haiti :
"This is a good initiative, I have worked in several companies, but it is the first time I have participated in this kind of event, it helps us to unite more one and other, the chat on the leadership was very positive for me and helped me a lot to lead my group, I hope that this initiative will repeat in the future."

Mendouard Dieuvelt (Packing Supervisor), Haiti :
"I appreciate very much the event, it helped me a lot in my daily work, I learnt how to solve a problem without much complication with my workers, it would be very important to organize this kind of activity every three months."
Pierre Bernard (General Line Supervisor), Haiti :
"It was an excellent idea, all gathered together at the same table to share our joy, food and drink, even though we work in different area but we are all belong to one company, I hope we can continue with this type of activity to achieve together what we want all success"